This is THE barbecue side dish of 2019. A new favorite was born. Instead of steamed vegetables and the typical wedges fresh out from the oven, there is finally a newly discovered recipe that tastes excellently with grilled meat. Mung lentils, have you ever heard of it? These kind of lentils are especially used in ayurvedic cuisine. Today, I have combined them with raw vegetables, courgettes and rocket sprouts. A simple dressing of olive oil and pear balsamic vinegar or alternatively other white balsamic vinegar makes the salad really fresh. Great, isn't it?
Try it out and have fun with this recipe,
yours gaumenschmaus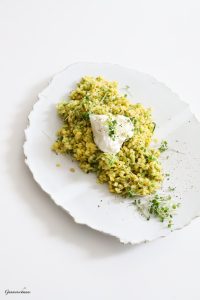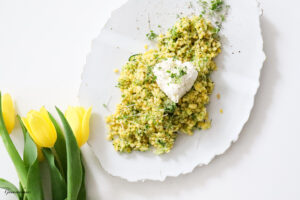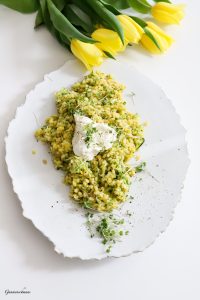 Preparation time: 40 min
Ingredients for 1 large bowl:
500 g mung lentils
2 finely grated courgettes
1 handful of rocket sprouts
2 Burrata
50 ml olive oil
50 ml pear balsam vinegar
salt/pepper
Preparation:
Wash the lentils hot, then cook in a pot with water at medium heat for about 20 minutes until soft. Mix olive oil, vinegar and spices in a shaker or whisk well with a whisk in a bowl. Strain the lentils, mix everything together in a bowl and top with a halved or quartered burrata.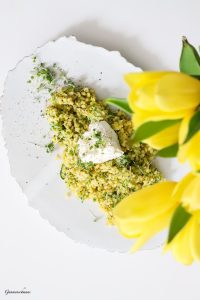 ---