Tö-röööö, strawberry season is coming soon. Of course, i had already seen the first local strawberries. You too? Who is planning, picking strawberries by yourself this year? Here, i've come up with an extraordinary creation, a festive cake. Strawberry meets hazelnut.
For the next baptism, upcoming first communions or other birthdays you have to write down this recipe. We have a simple sponge mixture for the sponge cake, in which has been integrated milk chocolate. The strawberry core could be omitted, but the cake cut really creates a wow effect.
Wish you so much fun with the recipe,
go wild and enjoy,
yours Gaumenschmaus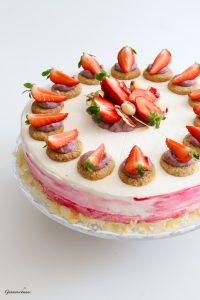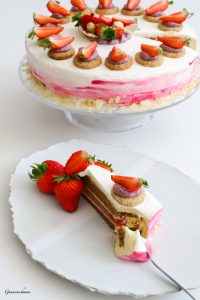 Preparation time: more than 60 min
Ingredients 25cm cake:
140 g butter
6 eggs
140 g whole milk chocolate
120 g spelt flour
100 g icing sugar
100 g fine granulated sugar
cream:
4 yolks
40 g fine granulated sugar
500 g GUMA beaten
2 caps rum
80 g hazelnut paste (alternatively nut nougat)
strawberry core:
250 g fresh strawberries
40 g fine granulated sugar
3 sheets gelatine
Besides:
250 ml GUMA beaten
1 sachet vanilla sugar
Mark 1 vanilla pod
juice from ½ Lemon
red food coloring
Décor:
fresh strawberries
spelt biscuits
chocolate decor
blueberry ganache
almond flakes
Preparation:
For the sponge cake, separate eggs. Mix room-warm butter with icing sugar until foamy. Add the yolks, then add the melted chocolate. Mix the egg whites with a hand blender, add the granulated sugar slowly. Next, put the beaten egg white to the mixture and finally add the flour. Place the mixture in a cake ring lined with baking paper and bake in a preheated oven at 160 degrees hot air for about 50 minutes.
Clean strawberries for the core, wash and dice into a pot. Add sugar and simmer for 5 minutes at medium heat. Soak gelatine in cold water, squeeze. Puree strawberries with a hand blender, add gelatine – let cool down a little. Put the purree lukewarm in a cake ring lined with baking paper (20 cm DM) and place in the freezer.
Prepare hazelnut paste from 40 g roasted hazelnuts and 40 g icing sugar. Mix in a blender until a homogeneous mixture is obtained.
Tip: Prepare more – 300 g nuts + 300 g icing sugar – can be used wonderfully as a hazelnut spread.
For the cream, whisk yolk and sugar in water bath until foamy. Yolks should reach at least 70 degrees (pasteurize). Remove the kettle from the water bath,  mix in the hazelnut paste and stir quickly. Fold in rum and GUMA.
Halve the sponge cake in two layers. Place the first base in the ring and spread half of the cream on top. Remove the frozen strawberry core from the baking paper and press into the cream. Place the second cake base on top and spread the rest of the cream on top. Put in the freezer for at least 60 minutes.
Cover the frozen cake with GUMA and add some food colouring to the edge of the cake. Decorate the cake with spelt biscuits, fresh strawberries, almond flakes and blueberry ganache. The cake is thawed in the refrigerator in approx. 60 minutes and is ready to eat.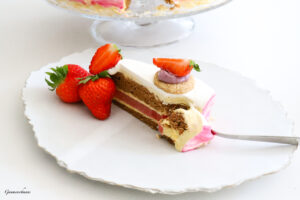 *advertisement
---
Joyful cooperation with GUMA!