How do you like the color P U R P L E? I hate it on Outfits – but i love it on foods. Have you ever tried purple potatoes ? These potatoes are available in a low percentage set next to the original potatoes, so we should make them tasty for our moments of pleasure. Next to pumpkin, purple potatoes are a real colour boost in the kitchen. They taste especially good as a potato side dish with salad, BBQ, all kinds of meat & fish.
The preparation is about to cook and to roast them. That's it? That's exactly the way it is. I would also recommend my delicious BBQ sauce, scroll down and get the link for this recipe.
Yours gaumenschmaus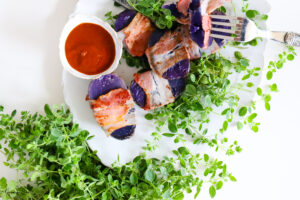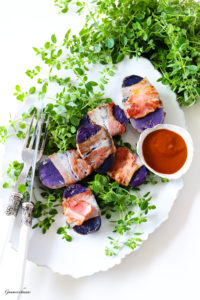 Preparation time: 30 min
Ingredients:
1 kg purple potatoes
300 g breakfast bacon
salt/pepper
BBQ Sauce
little rapeseed oil
Preparation:
Cook the purple potatoes in water for 20 minutes until soft. Then cut in half, quarter if necessary. Wrap each piece of potato in a bacon roll. Fry the pieces crispy all around in a little oil.
Serve in salad nest / as sidedish.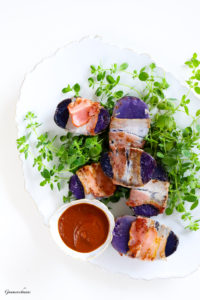 ---