It's friday and i'll tell you something. Not only the instructions for this delicious chocolate mousse cake – but also the secret ingredient how to get such beautiful baked products. Ingredient No. 1 – KITCHENHERO. I'm personally so happy about my new Cooking Chef Gourmet and am so proud to have her in my kitchen. Together with one of my favourite partners Kenwood Austria it is possible for me to bake simple and extraordinary creations. Not only for me – but also for you.
So let's get back to our recipe today, the chocolate mousse cake. I claim it is the fastest cake ever. With the simplest ingredients and self-created decor, a lightly-baked and digestible biscuit without butter is created with a fine chocolate cream, topped by these wonderful chocolate hazelnut cookies, which were also created with an accessory from my gourmet chef.
By the way, in the last survey you wanted to know my recommendations and opinions about kitchen machines. Kenwood will always be my faithful friend when it comes to cooking and baking. For beginners and everyday cooking & baking stories, this is a great alternative to mine. Chef Elite or Chef Titanum. Both were awarded, the Elite scored very good in test, the Titanum even received the Gold Award 2016. One thing is certain – you won't regret buying a Kenwood kitchen machine. Never.
HAPPY BAKING,
yours gaumenschmaus
#teamgauumenschmaus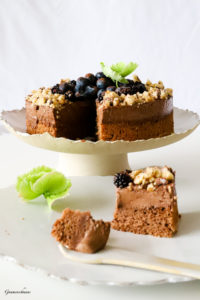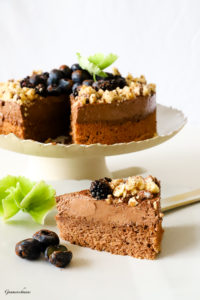 Preparation time: more than 60 min
Ingredients for 18-20 cm cake:
2 eggs
60 g icing sugar
50 ml rapeseed oil
50 ml water
60 g fine granulated sugar
1 tbsp bitter cocoa
90 g wheat flour
2 egg yolks
1 tbsp sugar
1 Cap Rum
120 g dark drops
250 ml cream
Preparation:
Separate eggs. Stir egg yolks and icing sugar until foamy. Alternately add oil and water.
Beat the egg whites with the fine granulated sugar until snowy. Mix flour with cocoa – sieve.
Stir in the beaten egg white and finally mix in the flour mixture. Place in an 18 cm cake tin or ring with baking paper and bake in a preheated oven at 170 degrees hot air for approx. 30 minutes. Allow to cool.
For the cream, whisk yolk and sugar in a kettle (water bath) until foamy. Yolks should reach at least 70 degrees (pasteurize). Attention, the egg should not stick. Remove the kettle from the water bath, quickly mix in the melted chocolate and stir quickly. Fold in the whipped cream until semi-stiff, then layer the cake in a cake ring on top of the cooled sponge cake.
Refrigerate the cake including the cake ring for at least 60 minutes. Finally, decorate with broken chocolate cookies (you will find the recipe HERE) and fresh berries.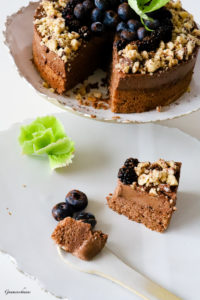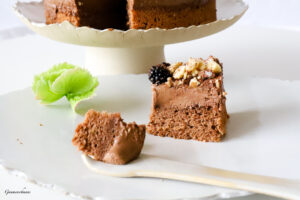 *advertisement
---
Joyful cooperation with Kenwood!