Good morning world, we are celebrating easter on 19 April 2019. So very soon we'll be feasting again on easter ham and on my carrot crumble muffins. They should not be missing on our easter table.
In my stories I have already announced that this is a very easy recipe to bake. You need a bowl, a whisk and the ingredients listed in the lower part of the recipe.
Wish you a lot of fun and welcome to #teamgauumenschmaus!
Sending love,
yours Gaumenschmaus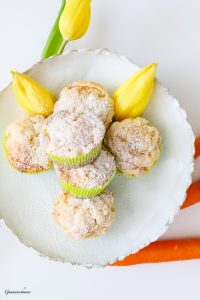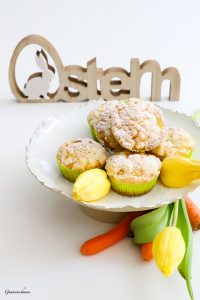 Preptime: 40 min
Ingredients for 12 muffins:
280 g flour
2 teaspoons baking powder
100 g fine granulated sugar
1 sachet vanilla sugar
2 eggs
250 g yoghurt
6 tbsp rapeseed oil
2 grated carrots
1/2 teaspoon ground cinnamon
1/2 tsp ground cloves
Sprinkles:
30 g butter
20 g sugar
40 g flour
1/2 teaspoon cinnamon
Preparation:
For the crumbles, dice the cold butter in a bowl – add flour and sugar, and combine all ingredients to crumbles. Line a muffin tin with 12 paper cups.
In a second bowl, prepare the muffin dough. Sieve the flour and baking powder into the bowl. Add sugar, vanilla sugar, eggs, yoghurt and oil. Stir until smooth with a whisk.
Finally, fold the grated carrots into the mixture carefully.
Fill the dough into the muffin moulds, top every muffin with sprinkles and bake them in preheated oven at 200 degrees hot air for about 20 minutes.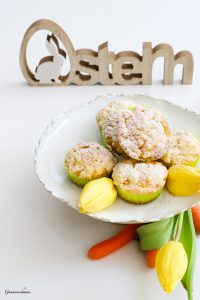 ---