Today i wanna present you together with Städters Backwelt this fruity and springlike raspberry tart with chocolaty crispy base. The bottom is very easy to lift out, the tarte dough (short pastry) is also easy to remove by light greasing. If you want to cut on the tart base, I will recommend you, to put baking paper under it. In general, it is advisable not to scratch around firmly with baking tins like this.
We use raspberry ganache to fill the tart. It is quickly made and tastes fruity, so ideal for the already arrived spring time. Due to the frozen raspberries, the ganache is rather colourless after cooking the fruits. That's the reason, while i'm adding a few drops of red food colouring, which brings it back to life. Now, have fun baking and tagging #teamgauumenschmaus,
yours
Gaumenschmaus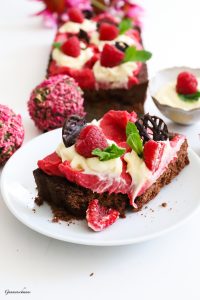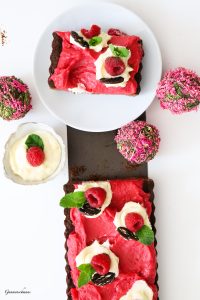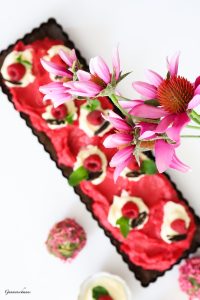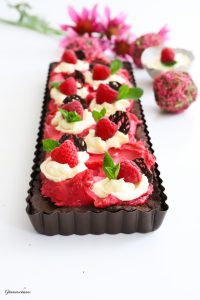 Preparation time: 50 min + baking time
Ingredients:
135 g flour
20 g cocoa powder
1 ½ TL baking powder
70 g sugar
1 pck. vanilla sugar
1 egg
100 g butter
250 g frozen raspberries
500 ml cream
600 g chopped white chocolate coating
3 caps rum
some grated lemon peel and red food colouring
Preparation:
For the dough, knead all ingredients in a bowl to a nice shortcrust pastry – then refrigerate for 30 min.
Grease the cake tin with a little butter, roll out the dough and place it in the tin – don't forget to pull up the dough at the edge for your filling after baking. Bake your tarte in preheated oven at 160 degrees hot air for about 25 minutes – set aside and let cool.
For the filling, cook the raspberries at medium heat for approx. 10 minutes until soft and puree with a hand blender. Add the cream and bring to the boil only for ONE time again. Chop the couverture and place in a bowl. Next put the hot cream-fruit mixture over the chopped couverture and set aside for 5 minutes. Start stirring from the inside with the whisk and continue stirring until a homogeneous mixture is obtained. Fill and decorate your tarte as you like, using whipped cream and chocolate splitters.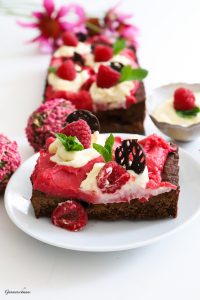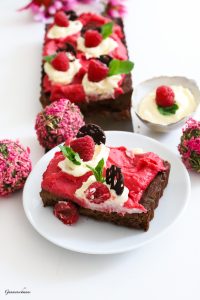 ---
ad with städters bakery world!