You are host and looking for an autumn dessert for the next menu? Or do you just love experimenting in the kitchen? The parfait is made in a minimum of time, suitable for beginners to professionals. In the few steps I will also show you how well you can prepare the dessert the evening before and save time for other necessary preparations.
Cinnamon is probably the most popular spice in the cooler months of the year. In combination with butter biscuits and GUMA, a few ingredients make for a really great experience. If you are not a fan of cinnamon, you can replace it with other spice blends or cocoa. Your plum dream is cooked just as quickly as parfait. All the ingredients are added to the pot – the details can be found in the recipe below.
So jump down and see for yourself!
Have fun trying out and good luck,
yours Gaumenschmaus
#teamgauumenschmaus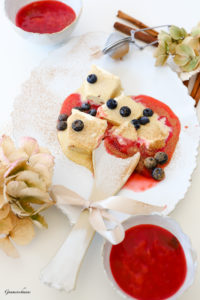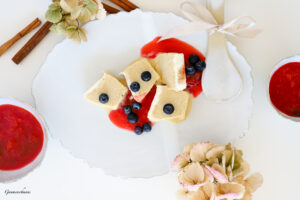 Preparation time: 35 min
Cooling time: min. 60 min
Ingredients:
1 egg
2 egg yolks
70 g sugar
1 sachet vanilla sugar
100 g white chocolate
3 teaspoons cinnamon
250 ml GUMA Patisserie Cream
1 Cap Rum
butter biscuits
400 g plums
180 ml water
2 cinnamon sticks
5 cloves
3 tbsp sugar
½ Vanilla Pudding Powder Pck.
Preparation:
For the parfait, put the egg, egg yolk, vanilla sugar and sugar in a water bath and heat to 70 degrees while stirring constantly. Melt the white chocolate in the microwave or in a water bath – stir quickly into the egg mixture. Beat the GUMA Patisserie Creme until semi-stiff and finally add the cinnamon to the mixture.
Coat a parfait form with a little oil, then line it with baking paper – this way the paper sticks better. Fill in the cream and top with chopped butter biscuits for a crunch effect. Put the parfait in the freezer for at least 60 minutes.
Remove the seeds from the plums and put them in a pot with water, cinnamon, cloves and sugar. Cook over medium heat for about 15 minutes until soft. Mix the pudding powder with a little water and mix into the compote. Cook for another two minutes. Put aside and serve with the parfait.
Tip: To get parfaits out of the frozen dish more easily, rinse the outside of the dish with a little hot water.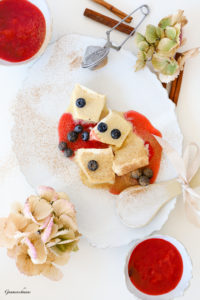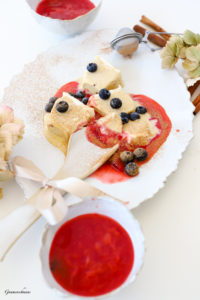 *advertising
---
Joyful cooperation with GUMA!