This cream cheese cake enriches our holiday. DEFINITIVE. Today, I have a super fluffy recipe for easily digestible sponge cake completely without butter. In truth, it is a classic one among cakes. Fresh in taste and simply to made. I chose raspberries instead of apricots for more refreshment. To intensify the raspberry taste even more, the first base could be covered with raspberry jam.
I try to use as little gelatine as possible in all recipes and then GUMA is used very often. The advantage of GUMA is, that the whipped GUMA cream is firmer and at the same time more stable in the output.
Have a lot of fun with my recipe,
yours gaumenschmaus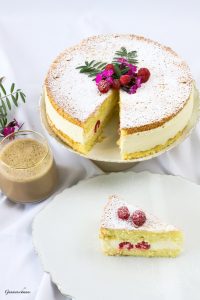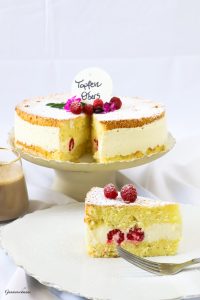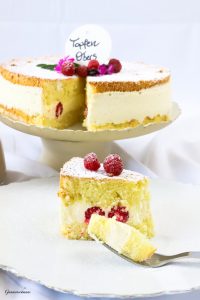 Preparation time: 60 min
Ingredients for a 22-24 cm cake:
4 yolks
120 g icing sugar
100 ml rapeseed oil
100 ml water
4 egg white
140 g granulated sugar
100 g spelt flour
70 g wheat flour
30 g corn starch
60 ml milk
60 g sugar
pinch of salt
Peel ½ Lemon
250 g curd cheese
4 sheets gelatine
30 ml lemon juice
250 ml GUMA cream
Preparation:
For the sponge cake, stir yolks and icing sugar until foamy. Gradually add water and oil. Beat the egg whites with the granulated sugar until stiff – fold in at low speed. Mix flour and corn starch, sieve and finally mix in.
Pour the mixture into a mould lined with baking paper and bake in a preheated oven at 160°C for approx. 50 minutes until golden brown.
Meanwhile prepare the cream. Mix milk, sugar, salt, lemon and curd cheese in a bowl until smooth. Heat the lemon juice in a pot, dissolve the gelatine in it and stir quickly into the mixture. Beat GUMA until semi-stiff and fold in at the end.
Cooling time: 60 min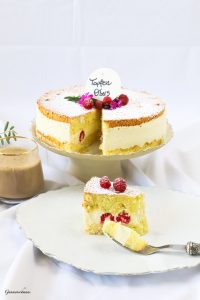 *advertisement
---
Joyful cooperation with GUMA!