Whose herbs grow as much as mine? Curd cheese dumplings have not only be sweet, do they? Today, i have a super simple and delicious appetizer idea. Herb curd dumplings with parmesan on salad or on steamed vegetables. Both have been tested – we love them. It's also a recipe for summer evenings and if we're lazy it's the easiest dish ever. All we need is a large bowl and a pot.
Have fun with my recipe and enjoy as many balls as you like,
yours gaumenschmaus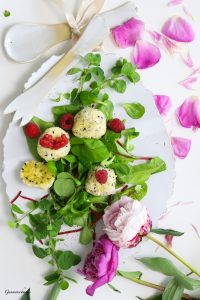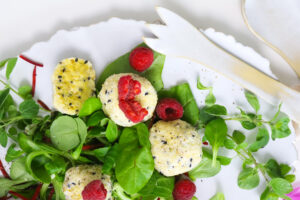 Preparation time: 30 min
Ingredients for approx. 16 dumplings:
250 g curd cheese
1 tbsp butter
2 tbsp breadcrumbs
2 tbsp. smooth flour
100 g fine wheat semolina
50 g parmesan cheese
1 egg
1 yolk
50 g black sesame seeds
50 g white sesame seeds
Preparation:
Mix the ingredients to a homogeneous mass, cover and let rest in the fridge for at least 30 minutes.
Bring a large pot of salted water to the boil. Form about 16 dumplings with wet hands and add to boiling water. As soon as the dumplings have reached their surface, scoop them out with a ladle and serve with salad or cooked vegetables.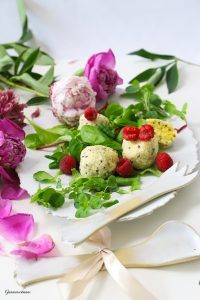 ---