Incredible how time flows. Mother's Day is just around the corner again. Have you already thought about something for your dearest mummy? Do you still need support for this year and an impulse of ideas, with what you will say THANK YOU to the best mothers of the world?
When I become a mom, my kiddies would know that I love to cook. Whatever time it is, early in the morning, at lunch or in the evening when we all sit together at the table for dinner. Cooking and baking – a passion for me. It simply has flair. The partner who accompanies me through all these times of the day is the Iceline knife line from TYROLIT life. It is produced in close cooperation with the tyrolean expterts in Stubai.
So whose mother still loves it as much as I do – Cooking and baking? With my code "tyrolitgaumenschmaus" you can save at TYROLIT life -25% on the total purchase. The personalisation of the knife is included for free.
I personally often use the Santoku knife or the bread knife – they are everyday favorites that I can highly recommend.
Have fun with my recipe,
yours Gaumenschmaus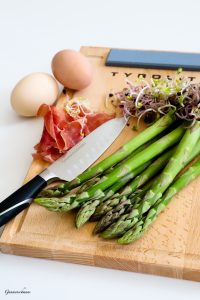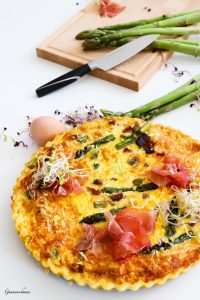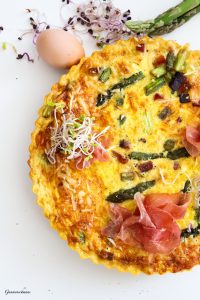 Preparation time: 40 min + baking time
Ingredients for a quiche 28 cm DM:
dough:
100 g butter
200 g flour
1 egg
½ TL salt
filling:
150 g bacon
250 g green asparagus
200 g mountain cheese
250 g sour cream
250 ml vegetable broth
4 eggs
1 onion
25 g butter
salt/pepper/muskat
fresh sprouts
prosciutto
Preparation:
For the dough, knead all ingredients into a dough in a bowl, set aside and rest for 30 minutes at room temperature. Cut the bacon and onion into small cubes, peel the green asparagus and cut into quarters – cook the asparagus in water until soft. Fry the bacon and onion in a pan with a little butter until crispy – add the cooked asparagus, toss and set aside. Place 5 asparagus heads on a plate for topping.
Roll out the shortcrust pastry in a tart tin, if necessary grease with a little butter. Pre-bake in the preheated oven at 170 degrees hot air for 10 minutes. Prick the dough several times with a fork.
Whisk the eggs. Then heat the vegetable stock in a pot, add the sour cream – season to taste with the spices. When almost cooled down, mix in the eggs and stir quickly to prevent the egg from sticking. Add 2/3 of the mountain cheese, bacon and asparagus and spread over the tart. At least, add the asparagus heads and the rest of the cheese. Bake in the oven for another 25 minutes until golden brown.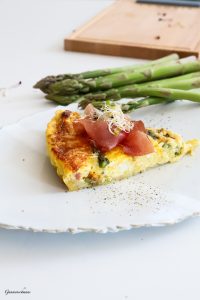 *advertisement
---
joyful cooperation with TYROLIT life!