I need your opinion. Acutally, I'm following a really bad cold and i already tried everything.  inhalations with herbs, ginger/lemon mixtures, teas. Even the medi's don't want to hit this cold. I also try to push myself with chicken broths, vegetable soups and vitamins. Any other ideas and insider tips to get over the cold quickly?
I feel powerless and it's hardly to spend much time in the kitchen. But this quick recipe for beetroot soup with carrots, i have to share with you. Homemade hummus and spelt bread are added. Wanna also have a vegan soup? Then come in.
Your's Gaumenschmaus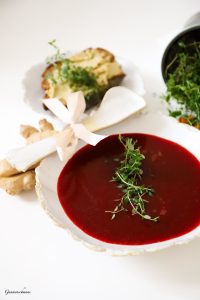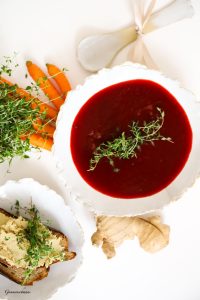 Preparation time: 30 min
Ingredients:
1 large or 2 smaller beetroots
3-4 carrots
1 l vegetable broth
thyme
Preparation:
Peel the beetroot, wash the carrots and cut them into small cubes. Put all into a pot, add the vegetable stock and fresh thyme – cook the vegetables for 20 minutes at medium heat until soft. Puree the soup finely with a hand blender.
If you want, refine with some cream or creme fraiché.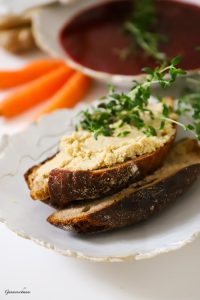 ---