Oh, you cute little madeleines – i've baked madeleines for the first time.
After deciding baking madeleines with nougat, i wanted to bake lemonmadeleines. But because of chocolate is my passion, decision was so easy. I baked 24 pieces and kept them in the tin for about a week. The consistency hasn't changed much and after five days, they were juicy like the first one.
Madeleine baking pan of could almost be a bit bigger. Otherwise it's great. We recommend to grease it with fat – I only use very little rapeseed oil or other vegetable oil. Sprinkle with flour and then fill the moulds. Since the coating could cause scratches, keep away from sponges. Hot water and a cloth will do to keep the mould clean.
Have fun and Happy Baking,
yours gaumenschmaus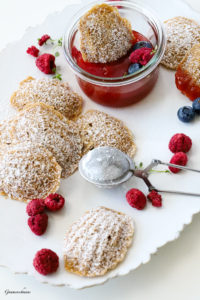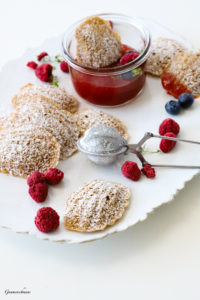 Preparation time: 20 min + baking time
Ingredients for 24 pieces:
120 g butter
1 sachet vanilla sugar
100 g dust sugar
200 g nougat
4 eggs
110 g wheat flour smooth
1 heaped teaspoon of corn starch
1 teaspoon baking powder
powdered sugar for sprinkling
Preparation:
Melt the butter. Mix eggs, dust sugar and vanilla sugar until foamy – gradually add the eggs. Sieve the flour, baking powder and starch into a bowl. Add spoonfuls to the mixture. Finally stir in the melted nougat.
Fill Madeleine baking pan and bake in a preheated oven at 190 degrees top/bottom heat for approx. 12-15 minutes. After cooling, sprinkle with dust sugar.
*Advertising
---
Joyful cooperation with Städter!