A pretty idea of presenting salmon at the breakfast table. So make way, here comes the power breakfast number 1 – crispy salmon scrambled egg bun.
So rich in aroma – so simple – so POWER!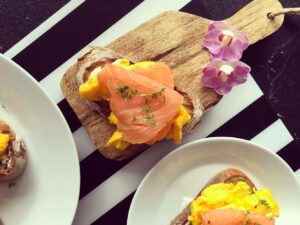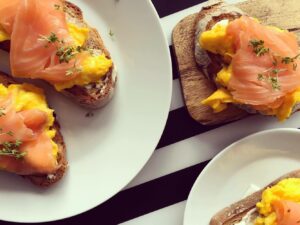 Preparation time: 15 min
Ingredients for 5 loaves:
5 eggs
5 slices of rye bread / wheat bread / farmhouse bread
5 slices of salmon
Cream cheese (brunch or Philadelphia)
Salt / pepper / oil & fresh cress
Preparation:
Scramble eggs in a bowl – season it with salt and pepper. Heat oil, fry scrambled eggs out of the pan. At the same time toast the bread in the toaster – spread with cream cheese – with scrambled eggs and one each slice of salmon occupy and decorate with watercress.
AND YOU? Are you now hungry? :)
---