Crying out for summer. How could it be better with our perfect elderflower cake? Long time ago, I had found so much healthy, fragrant elderflower in our forest. Of course I didn't want to let it on the floor.
For this cake, i have tested and used the new grid punch from Städter. It worked great and i can highly recommend it in terms of price and performance. Oh yes. And also the Deco-Dust, which I already have in almost all colors – even holds on creams and juicy deco-biscuit.
I wish you a lot of fun with baking,
yours gaumenschmaus
#teamgauumenschmaus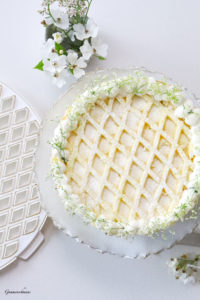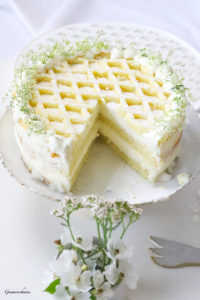 Preparation time: more than 60 min
Ingredients for 18-20 cm cake:
4 eggs
130 g icing sugar
100 ml rapeseed oil
100 ml water
140 g fine granulated sugar
30 g corn starch
180 g wheat flour
250 g yoghurt
100 g ricotta
100 g sour cream
120 ml elderflower syrup
juice 1 lemon
Zesten 1 lemon
5 sheets gelatine
Preparation:
Separate eggs. Stir egg yolks and icing sugar until foamy. Alternately add oil and water.
Beat the egg whites with the fine granulated sugar until snowy. Mix flour with starch – sieve.
Stir in the beaten egg white and finally add the flour. Place in an 18 cm cake tin or ring with baking paper and bake in a preheated oven at 170 degrees hot air for about 50 minutes. Allow to cool.
Mix yoghurt, ricotta and sour cream. Add the syrup and lemon – soak the gelatine in water – heat up and stir into the cream quickly. Place in the fridge for at least 30 minutes.
Cut the cake base into three parts, put the bottom part and some cream aside for decoration. Place the top part in an 18 cm springform pan, put then half of the cream on it and the middle dough base on top. Press the bottom part through the grid punch. Finish with the second amount of cream and the grid base.
Decorate with fresh fruits, flowers and the decorative cream.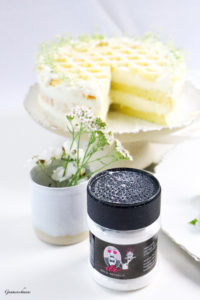 *advertising
---
In joyful cooperation with Städter!