Looking for a quick dessert? Healthy too? Almost. OK. Then STOP (!) now and read on. My fast fruit bags made of strudel dough and curd go for breakfast, dessert, snack, after dinner. So as you can read right now – ALWAYS.
What I really like – they can be baked for a whole year and every month. In winter I even bake them spicy. Leave out sugar and replace it with 50 g grated parmesan cheese, some salt and pepper. Instead of the fruits I use potatoes, sweet potatoes or pumpkins.
Wish you a lot of fun with this recipe,
yours gaumenschmaus
#teamgauumenschmaus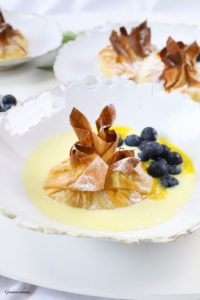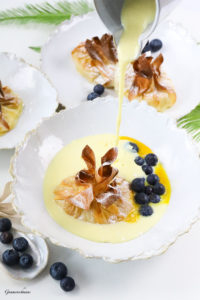 Preparation time: 30 min
Ingredients for 8 pieces:
1 pck. strudel dough
300 g curd cheese
1 sachet vanilla sugar
2 tbsp honey
lemon zest
40 g liquid butter
various fruits/vegetables of the season
Preparation:
Cut the strudel dough into 16 equal pieces, prepare two strudel leaves each for a bag – heat the butter in a pot.
Cut the fruits into a bowl and stir the curd cheese with vanilla sugar, honey & lemon until smooth.
Brush the first strudel leaf with liquid butter, then place the second leaf on top. In the middle, place 1 tablespoon cream of curd cheese and a few pieces of fruit. Press together tightly at the corners. Repeat another seven times.
Place the bag on a baking tray lined with baking paper and bake in the oven at 190 degrees hot air for approx. 20 minutes until golden brown.
Tip: serve with vanilla sauce
a recipe for quick vanilla sauce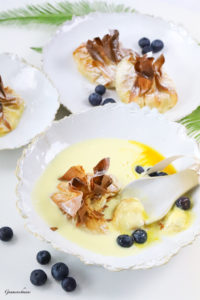 Preparation time: 10 min
Ingredients:
400 ml milk
1 tbsp corn starch
2 vanilla beans
3 tbsp sugar
1 egg
Preparation:
Heat milk, scraped vanilla pod + podshell, sugar and egg in a saucepan, stirr constantly so that the egg doesn't stick!!!
After simmering for 5 minutes at low heat, dissolve 1 tablespoon of corn starch in a little milk and stir in quickly. Allow to thicken for approx. 5 minutes, then serve immediately with the bag.
---