Aren't they sweet – millet carrot loafs. They almost bloom like flowers in a flower meadow. Oh, how nice it is to have spring with us. Dear spring, you can stay.
My spicy loafs may sound complicated, but apart from millet and carrots there are only a few ingredients that are added. If you don't want to eat vegan cheese, prep your thaler without the mozzarella . The eggs would have to be replaced by silk tofu or soy flour, for example. At least, only herbs and onions are missing.
They taste just as good cold with salad as warm. I recommend chives dip for warm loafs coming fresh out from the oven.
Greetings to you,
yours Gaumenschmaus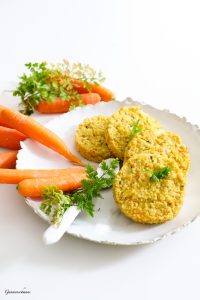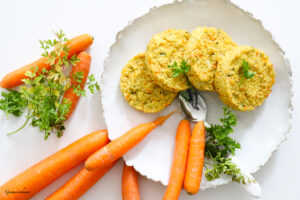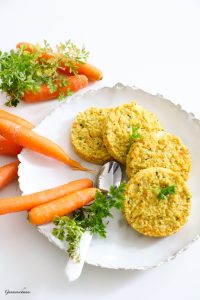 Preparation time: 40 min
Ingredients for about 11 loafs:
300 g millet
4 cups of water
1 red onion
2 medium carrots
2 cloves of garlic
2 eggs
200 g grated mozzarella
3 tablespoons fresh chopped herbs (chives, parsley..)
salt / pepper / nutmeg
Preparation:
For the loafs, chop onion and garlic finely – peel the carrots and cut it into cubes. Sweat everything together in some vegetable oil in a pot.
Next, add your washed millet by hot water to the vegetables and roast briefly. Deglaze with water and simmer at low heat for 15-20 minutes. Stir occasionally – let the mixture cool down.
Drain mozzarella and dice into small cubes. Add eggs, mozzarella, herbs and spices to the mixture and mix well. Using a dessert ring (approx. 7cm DM), pour 1 1/2 tablespoons each of loaf onto a baking tray lined with baking paper. Bake in the preheated oven at 200 degrees hot air for about 20 minutes.
---