Say hi to our glazed pumpkin cake. Beautiful? I used the classical baking pan of Städter – we think it really succeeded. The pumpkin cake contains a handful of healthy ingredients. Because did you know – how delicious baked products with pumpkin taste?
In addition to hokkaido pumpkin, it also contains nuts, yoghurt and cinnamon. The cake is super juicy and lasts up to four days in the cake bell. After the fourth day it begins to dry (which is also a natural process of local products).
If you plan not to eat it right away, cut it into pieces and freeze it.
Our cake was glazed with my homemade apricot jam and cinnamon glaze. Darling wished chocolate icing – with which I unfortunately missed another picture before the cake was gone ;)
I wish you a lot of fun with the simple recipe and send best greetings to you,
yours Gaumenschmaus
#teamgauumenschmaus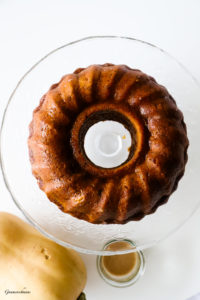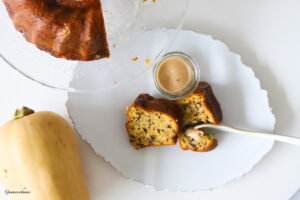 Preparation time: 30 min + approx. 40 min Baking time
Ingredients:
250 g Hokkaido pumpkin
120 g fine granulated sugar
150 g butter
5 eggs
3 tbsp yoghurt
1 handful of chopped walnuts
100 g chocolate drops
230 g wheat flour smooth
1 pck. baking powder
1 teaspoon cinnamon
zest of a lemon
2 tbsp apricot jam
shot of rum
80 g icing sugar
2 teaspoons cinnamon
1 tbsp lemon juice
Dark chocolate glaze for chocolate icing
Preparation:
Peel Hokkaido pumpkin and grate finely. Separate eggs, mix 60 g sugar with butter until foamy, then gradually add the 5 yolks and the lemon peel. Use the remaining 60 g sugar for the beaten egg white. Beat the egg whites until stiff, while mixing – let the sugar trickle in.
Add the yoghurt, nuts and pumpkin to the butter and butter mixture – then add the beaten egg white. Mix the flour with baking powder and cinnamon – sieve. Finally add to the mixture. Preheat the oven to 170 degrees hot air and grease the Gugl-Form with some butter and flour. Bake in the oven for about 40 minutes until golden brown. Allow to cool.
Heat the apricot jam with rum and glaze the still lukewarm Gugl with it. Mix sugar, cinnamon and lemon juice well and glaze the second time. A brush can help you with this.
For the chocolate icing the cake should be FULLY cold. Melt and glaze the dark chocolate glaze.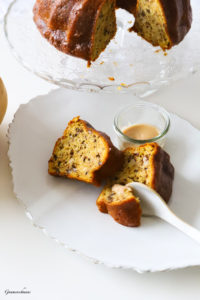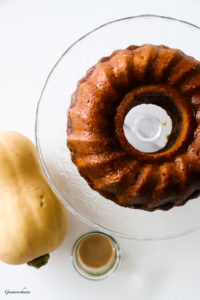 *advertisement
---
In joyful cooperation with Städter!