Breakfast table? Yes you are right, breakfast rolls should not be missing on our table . Baker rolls are definitely okay, but your own breakfast rolls are simply the best rolls on earth. These rolls are very easy to bake – outside so crispy and inside so wonderfully soft.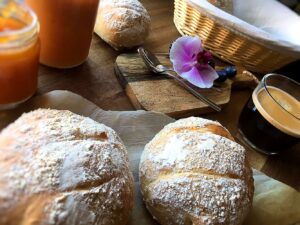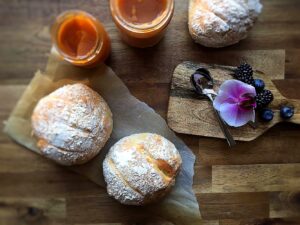 Preparation time: 20 minutes
Ingredients for 5 rolls:
500 g wheat flour
½ cube of fresh yeast
2 tablespoons oil
1 tsp salt Flour for dusting
Preparation:
The yeast is crumbled in 300 ml warm water, add oil and salt. Add also the flour to the water mixture and knead it well . Let's rest the dough for 40 minutes on a warm place. Knead the dough briefly and form five dough balls . Put the rolls on a baking sheet and dust every roll with a little pinch of flour ( for the rustic effect after baking ) . Preheat oven to 230 degrees and bake 22 minutes.
---