What a rainy day! Because of that reason, we need some warm breakfast for our hearts – Dutch Baby Pancakes with fresh fruits – YUM! I choose fresh berries, because they are absolutely my highlight at every breakfast in the morning. Small, fresh, cheeky but OHO! :)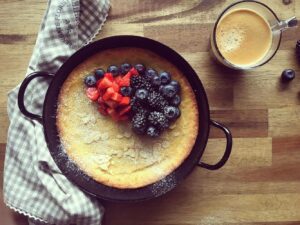 Preparation time: 30 min
Ingredients for 1 pan (24cm):
100 g wheat flour
1 pinch. baking powder
2 tablespoons granulated sugar
1 pack. Vanilla sugar
120ml  milk
1 egg
15 g butter
Almonds for sprinkling
Fresh fruit & maple syrup for serving
Preparation:
Preheat oven to 200 degrees (top and bottom heat). Place your pan in the oven, so that it is hot, when you put your dough into it. Mix flour and sugar in a bowl. Put egg and milk to your flour-sugar bowl and form a homogeneous dough. When the oven is hot, put butter to the pan (this may hiss it short times – not scare) – put also your dough to the pan and bake it for 20 minutes. After 15 minutes, sprinkle your pancake with a few almonds and bake it for the last 5 minutes.
---