Sage have various effects, it is known as an antipyretic remedy. It was also discovered, that sage have positive effects against headache. Fresh extracts shows anti-inflammatory and antimicrobial properties. As healthy as it is, we love sage – using it in our daily kitchen. "Less is more". For dinner, i'm serving today homemade potato dumplings in salty butter. Who will love this too?
Go right down to the recipe and have fun with it!
Yours Gaumenschmaus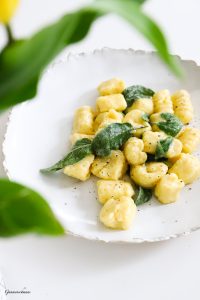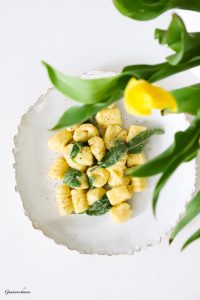 Preparation time: more than 60 min
Ingredients 4 portions:
8 medium sized floury potatoes
250 g smooth flour
4 tbsp liquid butter
4 egg yolks
80 g durum wheat semolina
salt/pepper/muskatnut
100 g butter
sage leaves
salt
Preparation:
For the gnocchi, peel the potatoes, cut it into pieces and cook until soft. Press through the potato press while still hot and knead into a smooth dough with the remaining ingredients. Wrap the dough in foil and let it rest for about 20 minutes at room temperature. Roll the dough into sticks and cut off nut-sized balls – form into gnocchi over the back of a fork. Flour your hands again and again. In a large pot, bring salted water to the boil, place the gnocchi into the pot and simmer until they have reached the surface.
Heat butter in a large pan – add salt and sage leaves. Swing the scooped gnocchi in the salt butter and serve with green salad.
---