Bruschetta – what a treat. Although I imagine rather cosy summer evenings with a glass of Aperol. But even the cooler days promise a lot under a cuddly blanket with potbelly ;)
Modified from the classic bruschetta with tomatoes, I created a new variation with bacon, mushrooms, herbs and rocket. The bacon gives the bruschetta a particularly delicious aroma and hardly needs any seasoning. For all veggies, use more herbs instead of bacon.
Enjoy your meal and happy baking,
yours Gaumenschmaus @gauumenschmaus
#teamgauumenschmaus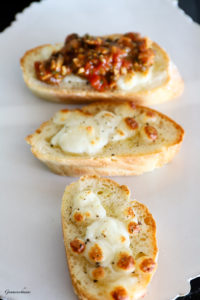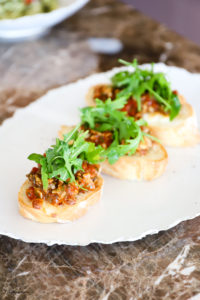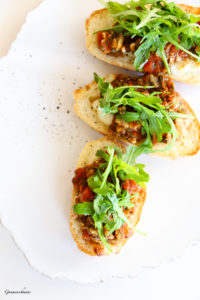 Preparation time: 20 min
Ingredients for 12 bruschetta rolls:
1 homemade jerk-bread (alternatively baguette)
200 g diced canned tomatoes
6 chopped cocktail tomatoes
150 g bacon
8-10 diced mushrooms
1 tsp dried parsley
½ tsp curry
salt / pepper / chili salt
Olive oil
Pepper
1 pck. mozzarella
fresh rocket
Preparation:
Cut bacon and mushrooms into small cubes. Fry them in a frying pan with a little olive oil. Mix tomatoes, herbs and spices – stir in the bacon mixture. Season to taste.
Preheat oven to 180 degrees hot air – cut bread into slices, cover with some olive oil and small mozzarella cubes – bake in the oven for about 10 minutes until golden brown. Mozzarella should be melted a little bit.
Immediately after baking, cover with the tomato mixture and fresh rocket.
Tip: If desired, decorate with sliced parmesan cheese.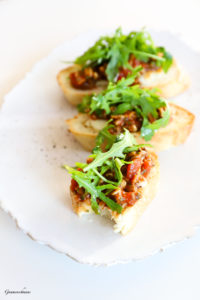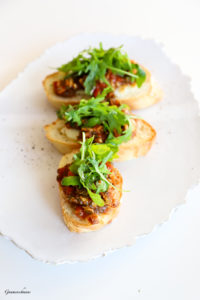 ---