No heart shape – but it still tastes delicious. And this not only on Valentine's Day ;) No eggs, no butter and also sugar reduced. Wow, if you like chocolate brownie – you should definitely put this recipe on your backlist right now! Dough is ready stirred in 10 minutes and can be distorted 60 minutes later.
Before eating it, i was sceptical myself – is it juicy enough? How does cake taste without butter and eggs. But afterwards I have to say  – super great and juicy result.
My darling wished hot raspberries with his piece of cake –  a nice and quick dessert on the coffee table – we are in love!
Have fun baking,
yours gaumenschmaus
#teamgauumenschmaus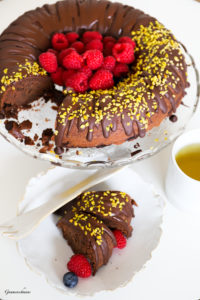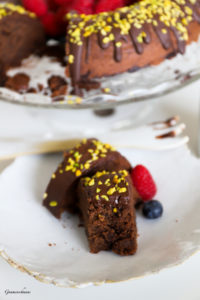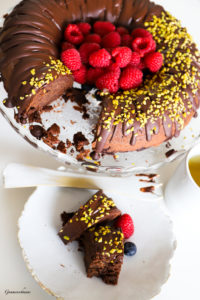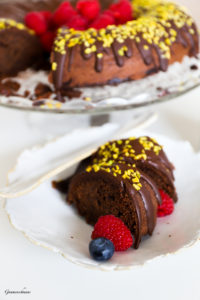 Preparation time: 10 min + baking time
Ingredients:
320 g wheat flour
40 g cornstarch
2 teaspoons baking powder
2 tablespoons of cocoa
120 g fine crystal sugar
1 scraped vanilla pod (alternatively 1 pck. vanilla sugar)
170 ml rape oil
400 ml almond milk
juice ½ lemon
100 g dark chocolate vegan
Casting
200 g dark chocolate vegan
pistachios / raspberries for decoration
Add on's
rape or coconut oil for greasing
Flour for dusting
Preparation:
Melt the dark chocolate in a water bath. Sieve the flour, starch, baking powder and cocoa into a bowl. Add sugar and vanilla pod or vanilla sugar. Whisk the rapeseed oil, almond milk and lemon juice – quickly add it to the flour mixture – stir quickly with a whisk.
Pour the mixture into a greased round mould – spread the melted dark chocolate on top and draw a marble pattern with a fork.
Bake the cake in a preheated oven at 175 degrees hot air for 20-25 minutes. Do not forget to test the cake with a stick!
When cooled, decorate with melted dark chocolate. Decorate with pistachios or raspberries.
Tip: Serve with hot raspberries!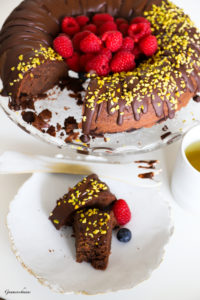 ---