I've heard, that sweet potatoes are healthier than normal potatoes. Not only that, but they are also tasty and very special. We enoy them today with red cabbage and cooked chicken meat with herbs on the plate and we love it very much. It is prepared super fast, two pans and a baking tray are enough for this dish – the sweet potato roasts itself with a few fork stitches.
In addition, the new cutting board from TYROLIT life has finally moved in with me. Stable.great for trading and it even contains a sharpening stone on the board. I remove it while washing and put it back in again afterwards. On my pictures below, you will also find one of my knives, with which I really like to work. The Santoku ||. Maybe this would be a nice Christmas present?
Whichever product you choose – just use my code "tyrolitgaumenschmaus" and save 25% on your entire order. All three of the knives shown (ham knife, chef's knife, Santoku) can be engraved for free with your order.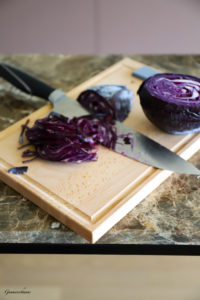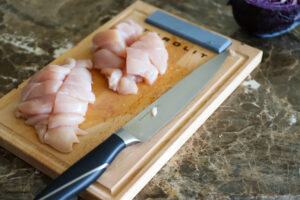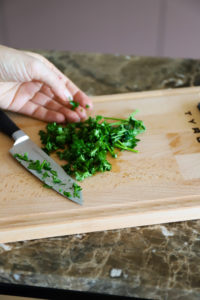 I wish you a lot of fun with the recipe below and would be happy if you tried it directly. Vegetarians can simply replace the meat with steamed vegetables or vegetables from the oven (you save one more pan and only need one for the cabbage).
We enjoyed salad as side dish.
Wish you a wonderful weekend,
yours Gaumenschmaus
#teamgauumenschmaus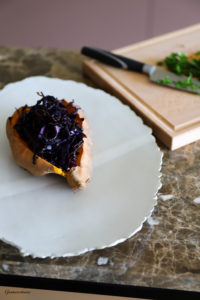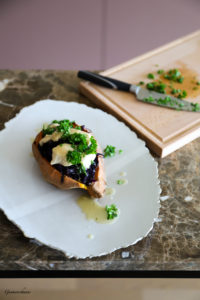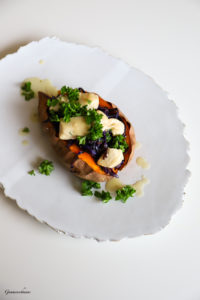 Preparation time: 50 min
Ingredients:
4 sweet potatoes
4 smaller pieces of chicken breast
1 head red cabbage
fresh parsley
salt/pepper
200 ml vegetable broth
Flour for thickening
Rapeseed oil for frying
Preparation:
Place the sweet potatoes on a baking tray lined with baking paper. Prick the potatoes several times with a fork and cook in a preheated oven at 190 degrees hot air for about 30 minutes until soft.
In the meantime, cut the red cabbage head into fine strips and heat in a pan with oil for 10 minutes until soft on a medium heat. Season with salt & pepper. Cut the chicken breast pieces into cubes, fry them hot in some oil all around – then deglaze with the vegetable stock and simmer covered for 5 minutes at a low heat. Finally, thicken the sauce with about 1 teaspoon flour dissolved in a little water.
Remove the sweet potatoes from the oven, cut them in half lengthwise – then top them with red cabbage, meat and fresh parsley.
Tip: Green salad goes well with this!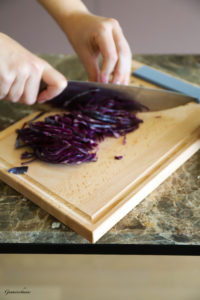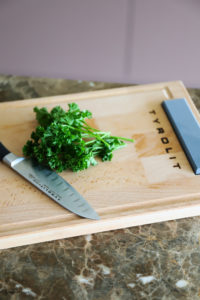 *advertisement
---
Joyful cooperation with TYROLIT life!