Salami, zucchini duo formaggi or bacon mushroom?
The sight of fluffy yeast dough is enough. Do you also associate it with…some love? Studies have shown that kneading (yeast) dough should be considered a relaxing activity. I can only agree with that. It's PIZZA TIME!
Whether flame cake or pizza. Both is created with our new TYROLIT pizza stone. Can be used indoor in the pipe, as well as outdoor at the grill. Depending on the weather, but both versions work great!
When I tested the set for the first time, the result wasn't even close to a pizza. The dough stretched out length times, when I wanted to put the pizza on the stone. The sauce soiled on stone and floor. Tyrolit also recommend to put the pizza stone in the oven or on the grill to reach the right temperature.
But hey, I got smart quickly and helped myself with the pizza board. In addition there was baking paper on the board – so that you only have to push the blank onto the hot stone without getting in touch with the plate. Once again the danger of burns is excluded. Since then pizza baking has been really fun. You also have the advantage, that stone and wood stay clean longer.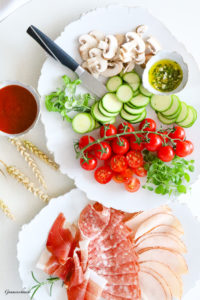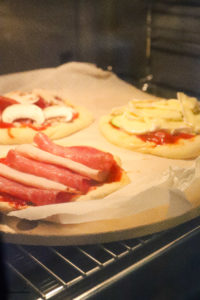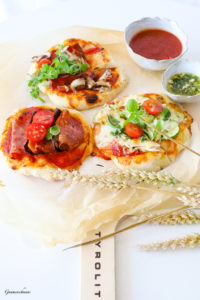 Today I wanted to present our TOP 3 favourite combinations with our homemade pizza sauce, ready? Then scroll on and choose your favourite. With your next order at TYROLIT, you will get -25% discount on your entire purchase.
Use the code "tyrolitgaumenschmaus" and enjoy your goodiePLUS – engrave your knife for FREE.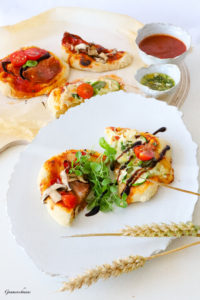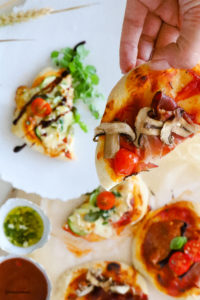 Preparation time: 60 min
Ingredients for 12-14 mini pizzas:
750 g flour
6 tbsp olive oil
approx. 400 ml lukewarm water
3/4 fresh yeast
2 teaspoons salt
pizzasauce
300 ml strained tomatoes
1 tbsp Worchester sauce
1 tbsp soy sauce
50 ml water
1 tsp corn starch
salt/pepper
pinch of sugar
1 handful of chopped herbs (mix of oregano, thyme, parsley, marjoram…)
Also
3 cloves garlic
olive oil
salt
freshly chopped basil
coating ingredients
Italian salami & turkey ham
South Tyrolean bacon & mushrooms
Zucchini, Brie & Mozzarella
Preparation:
For the dough, put the flour in a bowl and crumble the yeast in the middle. Add olive oil, salt and water. Knead all ingredients smooth or use your kitchen machine with dough hook for 5 min on strongest stage. After mixing your dough, put it on a warm place rest for about 30 min. Cut the dough into 12 equal pieces and roll them out. Brush each minipizza with tomato sauce and cover with the desired topping ingredients. Bake in the preheated oven at 220 degrees hot air for approx. 12 minutes.  After baking, brush the edge and the pizza with garlic gremolata.
For the garlic gremolata, the peeled garlic cloves are chopped into small pieces and mixed with olive oil in a bowl. Salt and chopped basil leaves are added.
For the pizza sauce, put all the ingredients, except the corn starch in a pot. Simmer at low heat for about 10-15 minutes and season to taste again. Maybe more soy or worchester or salt is needed. Finally, stir the corn starch into a little water and thicken the sauce with it. Let simmer for another five minutes – put aside.
---
Joyful cooperation with TYROLIT!