It's enough – i'm already arrived in spring fever. Wishing more sun, more warmth and of course many sweet berries and fruity sins.
Last weekend we had this blueberry apple tart. Some of you already asked for the recipe – maybe to bake it for coming Mother's Day? This tarte is, yeah, hmmm created with reduced sugar ;)
Of course, the blueberries can be replaced by other berries of the season. The strawberries already knock at the door. Even the raspberries are not far away. Well then, my dear.
I wish you a very happy baking,
yours gaumenschmaus
#teamgauumenschmaus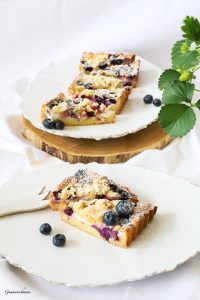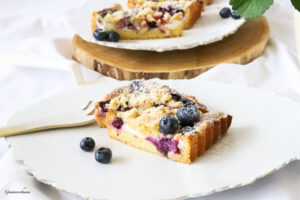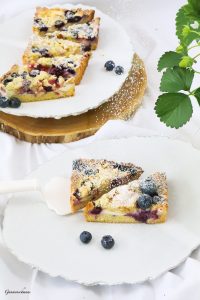 Preparation time: 60 min
Ingredients:
125 g butter
125 g sugar
1 sachet vanilla sugar
1 egg
130 g flour
1/2 pck. baking powder
Filling
250 g curd cheese
small piece of butter to refine
30 g sugar
cests of a lemon
1 tbsp vanilla pudding powder
200 g fresh blueberries
1 small apple
Sprinkles
70 g flour
60 g sugar
25 g butter
Preparation:
Mix butter with sugar and vanilla, then stir in the egg. Mix flour with baking powder, add to the dough and mix well. Meanwhile prepare the topping. Mix the curd cheese, lemon grater, sugar and pudding powder in a bowl and add the liquid piece (approx. 10 g) of butter.
Form crumbles from the crumble ingredients. Brush the dough into the greased & floured tart form. Spread the curd mixture evenly. Cover with blueberries & finely chopped apples, bake in a preheated oven at 170 degrees hot air for approx. 35 minutes.