3-2-1-BAAAAM! Finally. Finally. And again finally, here it is. Whether Ravioli, whether Spaghetti, Tagliatelle or Spirelli. Finally there is a perfect recipe for homemade pasta. I really tried a lot myself. I also failed several times – really failed and I was very down.
But now, here it is. The secret recipe for well going pasta. With the right equipment and the correct ravioli cutters from städter, we've done beautiful ravioli some days ago. The cutters are very good to handle, easy to clean and they are also absolutely safe for children when it comes to cutting danger. They shape the ravioli perfectly – even though the blade on the plastic cutter is blunt. Pasta is thin as newspaper – the filling is sooo creamy. Oh dear ones, I'm so in LOVE. TEST, TEST and again TEST yourself! # delicious
Yours Gaumenschmaus
#teamgauumenschmaus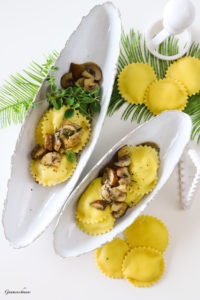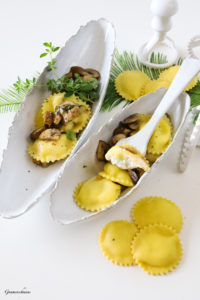 Preparation time: more than 60 min
Ingredients:
370 g wheat flour (type 405)
30 g durum wheat semolina
6 tablespoons white wine
2 tbsp oil
2 eggs
200 g ricotta cheese
1 shallot
100 g bacon
herbs if you want
salt/pepper
500 g mushrooms
200 ml vegetable broth
1 tbsp flour or maize starch
Herbs of your choice
salt/pepper
Preparation:
Make the pasta dough from the above ingredients. Knead everything together in a bowl or use a food processor. Leave to rest for 30 minutes. For the filling, chop the ricotta, shallot, bacon, herbs and spices in the Multi-Crusher or alternatively chop everything up with your hands and mix in a bowl.
Then roll out the pasta dough with the lasagne attachment first to level 0, once to level 3 and once to level 6 – place the strips on a well floured work surface and place a teaspoon of filling on the first strip at 3-4 cm intervals. Place the second lane on top, press down well and form ravioli with the cutter. Place the ravioli on a floured board.
For the mushroom sauce, sauté the onion in oil – briefly roast the mushrooms, then deglaze with the vegetable stock. Simmer for 10 minutes at medium heat. Finally dissolve the flour in some water and thicken the sauce. Who would like to season with fresh herbs, salt and pepper?
Bring a large pot with water and salt to the boil. Place in the pasta. As soon as they have reached the surface, mix with the sauce and serve.
*advertisement
---
Joyful cooperation with Städter!