Homemade pasta! Needed 4 tries until I was finally satisfied by myself. I had almost given up – but I thought to myself –  could be making pasta so difficult?
One dough was too hard, one too thick, the other too sticky.But I swore to myself that I would give myself a fourth and final try. At least, i can finally present my VERY satisfying result of my own pasta.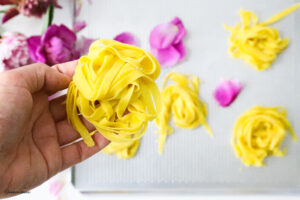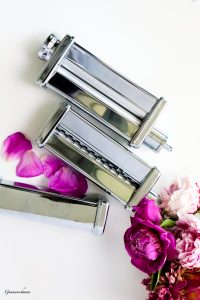 Already for a while the new cooking chef of kenwood delights my life – she is my true kitchen hero and i am simply overjoyed and proud to own it. In general, kenwood is my most loyal partner in the kitchen area. The appliances promise that, what they can do. I really produce a lot and they are in use every day – not a single helper has gone flute yet.
TADAAA, here it is, my homemade pasta. Wanna coming to the pasta party?
yours Gaumenschmaus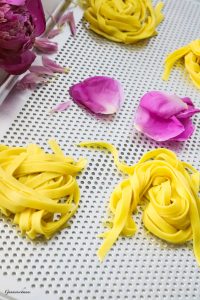 Preparation time: more than 60 min
Ingredients:
370 g wheat flour (type 405)
30 g durum wheat semolina
6 tablespoons white wine
2 tbsp oil
2 eggs
1 onion
500 g mushrooms
300 ml vegetable broth
salt/pepper
oil for frying
1 tsp flour for binding
Preparation:
Make the pasta dough from the above ingredients. Knead everything together in a bowl or use a food processor. Rest for 30 minutes. Then roll out the dough with the lasagne attachment first to level 0, twice to level 3 and once to level 7 – make then tagliatelle.
For the mushroom sauce, heat up the chopped onion in oil – briefly roast the mushrooms with onion. Next add the vegetable stock. Simmer for 10 minutes at medium heat. Finally dissolve the flour in some water and thicken the sauce. Season with salt, pepper and fresh herbs if you want.
For the pasta, bring a large pot with salt to the boil. Put the pasta in the pan and cook for about 9 minutes until al dente.
*advertising
---
Joyful Cooperation with Kenwood!