"Daddy First. According to this motto we celebrate father's day on 09 June this year. For this year we have something very special for Daddy. Papa comes to our second base to Switzerland and we will spoil him with our barbecue. We hope, he'll love – decided for a juicy flank steak, filled with pesto. As side dish we have crispy potato wheels, BBQ dip and salad. Tasty?
Our new knives from Tyrolit will help us to place this flank steak roll perfectly on the plate. I really can recommend the santoku knife and the cooking knife. Don't forget to always cut against the grain direction.
Before coating the meat with pesto, I add a thin layer of mustard, we love it. Then you roll it in. Not too thick, otherwise the meat becomes raw on the outside and stays raw on the inside.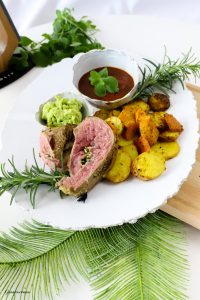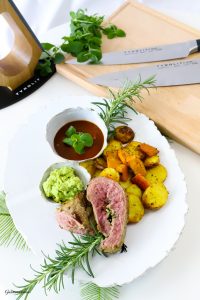 Next to this dish, I can also recommend the delicious BBQ BREAD. On this point, we also thank TYROLIT for the perfect knife equipment. So wouldn't that also be a great present on father's day for all daddies who love to cook? OH YES! With my code "tyrolitgaumenschmaus" you save  25% on the whole order, free engraving included, YAY!
Have fun cooking and enjoy,
yours gaumenschmaus
Preparation time: 60 min
Ingredients:
800 g flank steak
Nuts-pesto made from 50 g pine nuts, 50 ml olive oil, ½ Hand full of cashew nuts, ½ Hand full of hazelnuts, salt and pepper, 50 g parmesan cheese
2 tbsp mustard
salt/pepper
fresh rosemary sprigs
dried spices (thyme, basil, parsley, etc.)
1 kg young potatoes
Avocado Dip
2 avocados
some lemon juice
salt/pepper
BBQ Dip
2 onions
2 cloves of garlic
Rapeseed oil for frying
1 tablespoon paprika
1 tablespoon cinnamon
2 tbsp honey
80 ml white wine vinegar
250 ml strained tomatoes
30 ml soy sauce
20 ml Worchester sauce
200 ml cranberry juice
1 tsp flour
Preparation:
Brush the steak with mustard and pesto, roll up.
Cut your potatoes into wheels in a bowl – add dried spices, sea salt, garlic, paprika and olive oil – bake in a preheated oven at 220 degrees hot air for about 25 minutes until crispy.
Peel onion and garlic and sweat in a pot with some oil. Deglaze with vinegar, then add all other ingredients (except flour) – simmer at medium heat for approx. 25 minutes. Season to taste and finally add one tablespoon flour to thicken up (dissolved in water).
For the avocado dip, peel the avocados and crush them with a fork in a bowl. Season to taste and keep cool until serving. To avoid browning, place an avocado core in the middle of the bowl.
Serve and enjoy!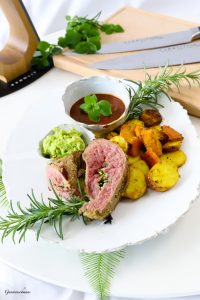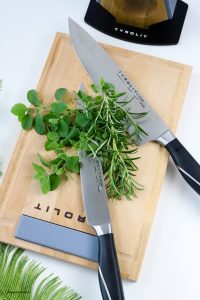 *Advertising
---
In cooperation with TYROLIT!