Quick and easy recipe, AHOI! For this week, you should make a note of this cake recipe. The dough is done in 10 minutes, it's super juicy because of the apples and the cake tastes heavenly with the crumbles. I have replaced a part of the dough with wholemeal flour. You can also replace completely the flour – but keep in mind that wholemeal flour becomes firmer in the baking result.
So if you prefer to bake 100% wholemeal flour, you can use 30-40 g less flour.
Browse through the recipe and have fun with it,
yours gaumenschmaus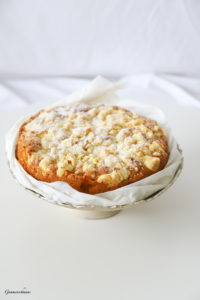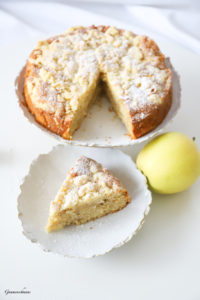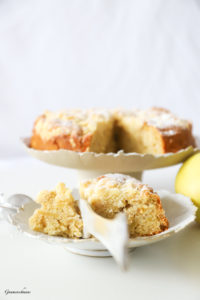 Preparation time: 30 min + baking time
Ingredients:
150 g butter
100 g icing sugar
2 eggs
2 large apples
1 teaspoon cinnamon
2 tbsp breadcrumbs
1 pck. vanilla pudding powder
4 tsp baking powder
6 tbsp milk
200 g wheat flour
50 g wholemeal flour
Crumbles:
50 g sugar
100 g flour
50 g butter
Preparation:
Peel, quarter and core the apples – then cut into fine slices. In a bowl mix the apples with breadcrumbs and cinnamon.
For the dough, mix butter and icing sugar in a food processor or mixer until foamy, add the eggs and continue to mix. Mix flour with baking powder and pudding powder – alternately stir milk and flour mixture into the mixture. Knead the crumble ingredients into coarse crumbles.
Finally, fold the sliced apples into the mixture, spread into a 20 cm ring (or greased dish) and cover with the crumbles. Bake in the oven at 160 degrees for 50 minutes until golden brown.
After cooling, sprinkle with icing sugar.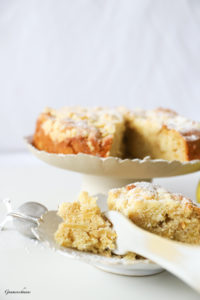 ---