What is tofu? He is white. And he is tasteless. Anything else? Yes – Tofu is known as bean quark, have you heard that before? Tofu is one of the staple foods in countries like Korea or Vietnam . After a biochemical process called denauturation (imagine an egg in a pan), the drained "tofu" is pressed into blocks – is being packed and is coming then to the consumer, to us.
Today this spongy block is often found in gourmet kitchens and can be prepared really good in combo with other ingredients. Today, i will show you a bowl with carrot-pepper curry, basmati rice and fried-baked tofu in oat flakes. Not oatmeal lover? Then mix sesame with polenta, or pull it through flour and dried herbs.
I hope you enjoy the recipe,
yours gaumenschmaus
#teamgauumenschmaus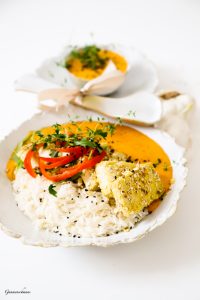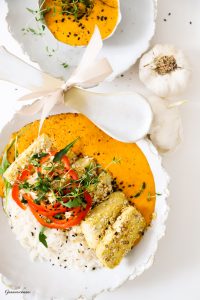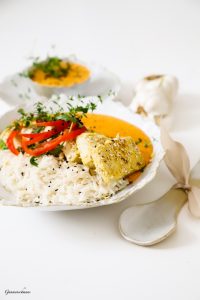 Preparation time: 30 min
Ingredients for 2 Bowls:
300 g tofu
4 carrots
1 red pepper
4 cloves of garlic
300 ml vegetable broth
250 ml coconut milk
fresh herbs such as basil or thyme
fine oat flakes
salt/pepper
rapeseed oil
Preparation:
Cut the tofu into 2 cm thick slices, press each side into oat flakes – put aside on a plate.
For the curry, peel the garlic cloves and put them coarsely chopped into a pot. Wash the vegetables, remove the paprika seeds, remove the ends of the carrots and add to the pot along with the peel. Sauté in some rapeseed oil, then deglaze with the vegetable stock and let simmer for 15-20 min at medium heat until soft. Add coconut milk, boil down for 5 minutes and purée everything together with a hand blender or in a stand blender.
Fry tofu hot in a pan for 2 minutes on each side, place on a baking tray lined with baking paper and bake at 190 degrees top/bottom heat for 10 minutes.
Basmati rice goes well with this.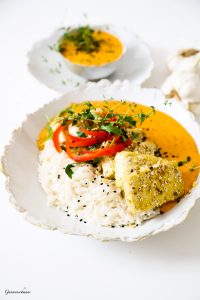 ---