The stage is ready for… the best COOKIEDOUGH ever. Oh, i could clean the whole dough bowl. Childhood memories probably come up – when I was allowed to lick out the mixing bowls in my mother's kitchen (especially during the Christmas season). Did you always do this as a child?
My cookiedough was stirred by the dough hook from my cooking chef machine, the nuts were chopped by my great new attachment from Kenwood. Last time i chopped the ravioli filling in it, now the nuts. This foodprocessor chops everything small in no time. It really is a real everyday helper – takes time and work. Chopping the nuts with his hands…i don't wanna think more about. As I know myself, A) the ground would be crumbly in less than five minutes and B) I would swear, the nuts jump off me while chopping – so it would takes more time. Do you also have a Kenwood machine? Then check this hero out HERE.
Have fun baking and send me photos of your results – whether via Instagram, Facebook or Mail – I enjoy this every day!
Gaumenschmaus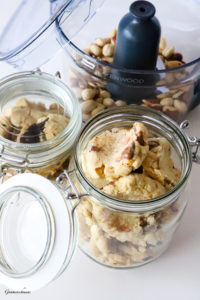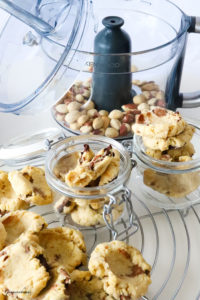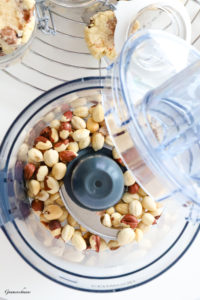 Preparation time: 30 min
Ingredients for aproxx. 30 pieces:
150 g butter
100 g fine granulated sugar
1 egg (L)
300 g wheat flour smooth
1/2 teaspoon baking powder
2 hands full of dark chocolate drops
pinch of salt
1 handful of roasted, chopped hazelnuts
Preparation:
For the Cookiedough, melt butter – then mix in a bowl with sugar, egg, flour, salt and baking powder. Finally add the chocolate drops and nuts. Cover the Dough and let it rest for about 30 minutes.
Preheat oven to 170 degrees hot air. Form plum-sized cookie balls with your hands and place on a baking tray lined with baking paper. Place approx. 15-16 balls in a row at intervals per tray. Bake for 5 minutes. Open the oven – flatten all the balls with a teaspoon in the middle. Bake again for 5 minutes.
Total baking time: 10 minutes.
Tip: If you want them even crispier, extend 3 minutes baking.
*Advertising
---
Joyful cooperation with Kenwood!