Isn't it true that every woman discovers something for herself during pregnancy that she could eat or drink every day? May I introduce my new favorite smoothie. Not too sweet, not too sour and so fruity! Smoothies can also do a lot in the morning or in between during the winter months. Our day started early, Mini doesn't want to sleep anymore. Understandably after nine hours. Recently I read that the little ones develop their own sleep/wake rhythm already in the stomachs, which they continue after birth. We are now in our EIGHT month and already dream that mini will at least approximately take over this sleep/wake rhythm. Which mummy does not wish this *hihi.
This smoothie creation is of course not only for pregnant women – kids and all the other big ones.
Have a nice Sunday and a good time! Enjoy the spring sunshine,
yours gaumenschmaus
#teamgauumenschmaus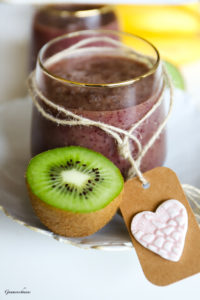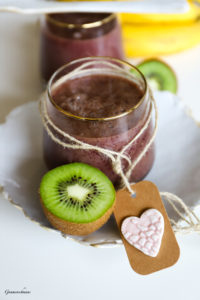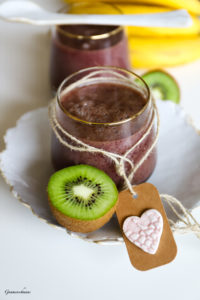 Preparation time: 10 min
Ingredients approx. 800 ml:
3 kiwis
1 banana
50 ml almond milk
200 ml water
200 g blueberries
1 tablespoon honey
1 tsp cinnamon
Preparation:
For the smoothie, peel/wash the fruits and mix with the remaining ingredients in a blender. Add some more water/honey as required.
---