Filled. Healthy. Colourful. Vegan. What could it be? For all those who have thoughts of vegetables – absolutely correct. Mister has put our stuffed sweet potatoes on the favourite list for fast, healthy and varied food. I have been planning for a long time to make sweet potatoes in the oven. It always failed because of the time factor. Time factor, because I thought it would be an elaborate dish.
Now I know that it is lighter than pizza dough, hehe. A new creation is already ready for winter – by then you should have tested the summer version. Stuffed sweet potato in on salad filled with mushrooms, leek and broccoli. The topping would be avocado pieces and our loved BBQ sauce.
Sounds appealing?
Have fun with this recipe,
#teamgauumenschmaus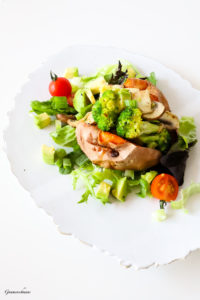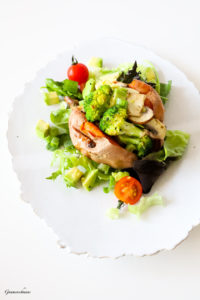 Preparation time: 60 min
Ingredients:
4 medium sweet potatoes
200 g broccoli
2 avocados peeled and diced
500 g mushrooms
2 young onion stalks
Cocktail tomatoes and salad nests for decoration
salt/pepper
Preparation:
Place the sweet potatoes on a baking tray lined with baking paper and cook in a preheated oven at 200 degrees hot air for 30-40 minutes until soft. Meanwhile, cut the young onion into fine strips, clean the mushrooms and broccoli and cut into bite-sized pieces.
Heat the pan with a little oil and fry the vegetables for 10 minutes over medium heat. Season to taste with salt and pepper and spices. Reduce heat and keep warm until filling.
Place the salad nests on the plates, place the sweet potato in the middle and cut lengthwise. Fill with vegetables – top with the avocado pieces at the end.
Tip: Herb dip or BBQ sauce goes well with this.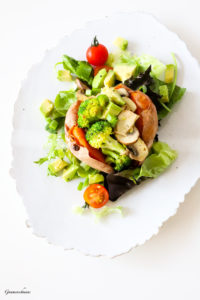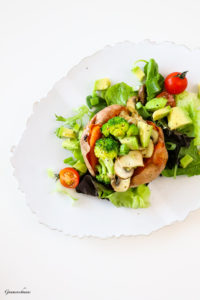 ---