Miserable wind and drizzly weather? No way. I prefer to light a candle in the house, enjoy the music and enjoy a plate full of creamy salmon spaghettini. "Soul food on rainy days."
The dish is finished quickly and even if the little ones don't like salmon, they love to eat sauce and pasta ;) The sauce can also be prepared without salmon/fish.
Which of you is still in the team "Noodles"?
Switch right down to the recipe and have fun,
Yours Gaumenschmaus,
#teamgauumenschmaus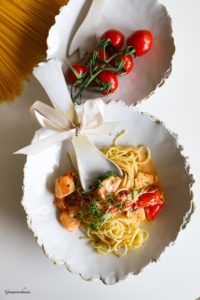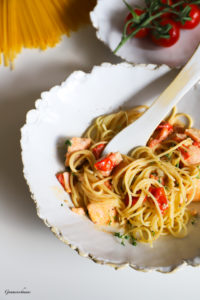 Preparation time: 30 min
Ingredients:
500 g spaghettini
500 g fresh salmon fillet
500 g cocktail tomatoes
2 medium-sized onions (red)
4 cloves of garlic
200 g cream fraiche
200 ml whipped cream
100 ml water
Salt / pepper / rape oil / herbs of your choice
fresh cress / parmesan
2 teaspoons flour
Preparation:
Cook the pasta according to the package instructions.
Remove the fish skin from the salmon – cut the fish into small cubes. Peel garlic and onions, chop finely – quarter tomatoes.
Fry the fish pieces in some rapeseed oil and place on a plate. In the same pan fry the onions and garlic until transparent, add the tomatoes and fry for another five minutes.
Deglaze with whipped cream, add crème fraiche, water and herbs – season to taste. Simmer at medium heat for about 10 minutes. Mix 2 teaspoons of flour in some water and use to thicken (depending on how liquid your sauce is). Add the salmon pieces for another 5 minutes, then arrange directly with fresh cress. Sprinkle with Parmesan cheese if you wish.
---