Warm chocolate cake with hot raspberries for you?  Dear chocolate lovers. I think you would probably melt away by yourself, it's sooo tasty. And of course, the best thing i have forgot to tell you – no blender or food processor needed. You only need some soufflee moulds or preserving jars, as you can see on the picture and a water bath.
If you're wondering, if that would be all? Except for the ingredients, YES.  Who wants to prepare some hours before, fill the dough into the glasses and put it in the fridge before baking. It works and doesn't affect the result – I have try ;) So have fun with my recipe and have a good time,
yours gaumenschmaus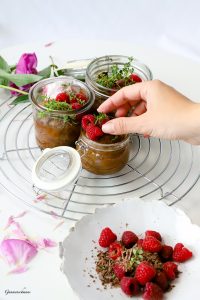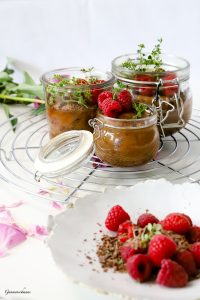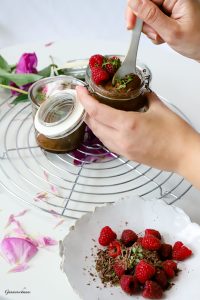 Preparation time: more than 60 min
Ingredients for 6 cakes:
150 g dark chocolate
150 g butter
80 g fine granulated sugar
4 eggs
80 g smooth wheat flour
150 g white chocolate
150 g frozen raspberries
1 sachet vanilla sugar
3 tbsp fine granulated sugar
Preparation:
For the filling, chop the white chocolate, cook the frozen berries with sugar until soft, then puree with a hand blender. Pour the still hot fruit mixture over the chopped chocolate, wait for 5 minutes – then stir with a whisk from the inside to the outside until the mixture is homogeneous.
Preheat the oven to 200 degrees hot air, grease 6 soufflee moulds with a little butter and dust flour. Then melt the dark chocolate with butter in a water bath. Remove the bowl from the water bath, mix in the sugar and the beaten eggs and finally add the sieved flour.
Fill the moulds halfway with the chocolate mixture, then place 2 teaspoons of the fruit mixture on each moulds and cover again with 3 spoons dough mixture. Bake in the oven for 10 minutes, cool for 10 minutes and then serve warm on the plate.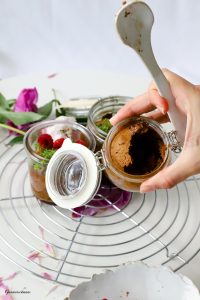 ---