Wonderfully light and fluffy! The light version of ricotta gnocchi in basil butter and braised tomatoes is available for you today. No hearty potato dough. But i just wanna mentioned, that this one also tastes fabulous ;)
The preparation for ricottag gnocci is almost easier than potato gnocchi. Stir all ingredients in a bowl until smooth, leave to cool briefly and use two tablespoons to form bite-sized gnocchi/dumplings. Of course you could also clap the dough on a floured work surface, form strands and cut off gnocchi. But why so messy, when it's even easier? We have already developed great love for this summer creation. Maybe you will do soon?
Good success and happy reposting with #teamgauumenschmaus @gauumenschmaus,
yours Gaumenschmaus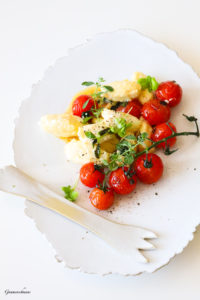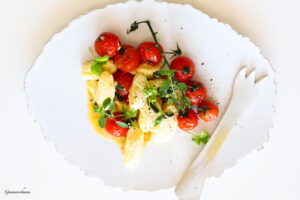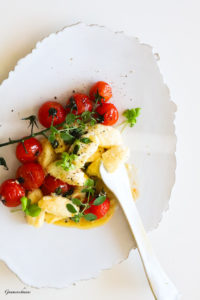 Preparation time: 50 min
Ingredients:
500 g ricotta
2 eggs (L)
50 g parmesan cheese
150 g wheat flour
500 g tomatoes
100 g butter
fresh basil leaves
pinch of nutmeg / salt / pepper
Preparation:
For the dough, stir all ingredients in a bowl until smooth. Cool in the fridge for at least 30 minutes.
Bring a large pot of salted water to the boil, then use the spoon method (form with 2 tablespoons of dumplings) and add to boiling water. The gnocchi are ready when they reach the surface.
Heat a pan with a little vegetable oil, fry the tomatoes on the panicles until hot, then cover and simmer for another five minutes. Meanwhile, place the tomatoes on a plate. Melt the butter in the same pan, add the fresh basil leaves – salt and pepper – then carefully toss the gnocchi in it and serve immediately with the tomatoes!
A green salad is an excellent accompaniment!
Tip: For larger quantities you'd better use a wok for stewing and swirling! ;)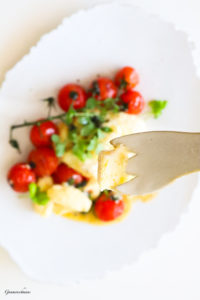 ---