Have you ever enjoyed egg and bread in combination? Don't worry, the egg won't burst if it doesn't exceed the oven temperature of 190 degrees. This dough base is one of my favourite bread recipes ever. I change it every day sweet and spicy and recreate it new. Some day's ago, this easter bread was created for our easter table this year. The egg is perfectly cooked. The dough has almost no resting time.
So if you are still looking for a bread inspiration for easter, you have found the right instructions here.
I wish you a lot of fun,
yours Gaumenschmaus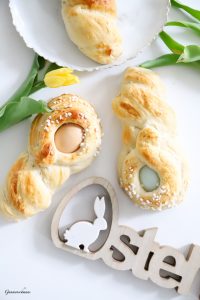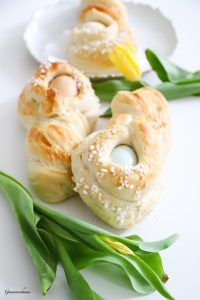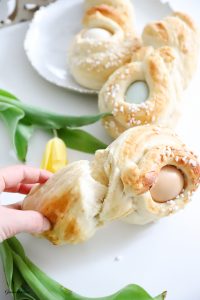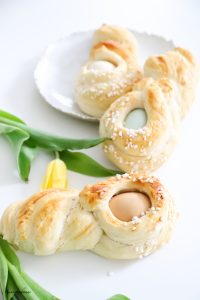 Prep time:
Ingredients:
½ cube of fresh yeast
300 ml lukewarm water
500 g flour
100 g planed almonds
mark 1 vanilla pod
peel 1/2 untreated lemon
pinch of salt
3 raw eggs
olive oil
eggwhite or water
Preparation:
Crumble the yeast in lukewarm water, stir well and add the oil. Salt the flour and gradually add to the water mixture, knead well. Rest the dough in a bowl for 10 minutes in a warm place. Now add the almonds, lemon peel and vanilla pod to the dough. Cover again and let rest for 40 minutes.
Place the dough on a floured work surface and cut into 3 equal pieces. Roll each piece of dough into snakes – spread one egg with olive oil place it in the middle of each snake, twist a cord upwards. Cut off the upper ends of each snake – roll this one again into a mini-snake and lay around the egg. Place the easter breads on a baking tray covered with baking paper, brush with egg white or water, cover and let rest for 5 minutes. Brush again – sprinkle with sugar, if you want and bake the breads for about 20 minutes until light, preheated oven 185 degrees.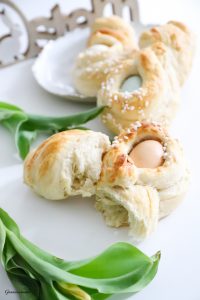 ---