Delicious Greetings from Italy with an experiment from my kitchen! You should not click away, just because all think gnocchi recipes are always so complicated! These gnocchi are really prepare without much effort – the taste paid every move – especially by those wonderful potato flavor.
The recipe of this crispy gnocchi in creamy tomato sauce is delicious!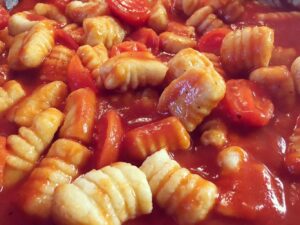 Preparation time: 50 minutes
Ingredients for 4 servings :
4 large floury potatoes
125g plain flour
2 tablespoons melted butter
2 egg yolks
40 g durum wheat semolina
Salt , pepper and nutmeg
For the tomato sauce :
2 shallots
5 trusses
250 g peeled tomatoes
1 sprig of basil and thyme
20 cherry tomatoes
10 basil leaves
 Preparation:
First of all peel for the gnocchi, potatoes and cook until tender – press it still warm through a potato ricer. Knead it with the remaining ingredients and form a homogeneous dough. In the next step form 2 cm pieces on a fork back to Gnocchi (for possibly the hands should be floured). For the tomato sauce, peel shallots and chop finely. Wash and cut also tomatoes into pieces. In a saucepan, heat some olive oil, roast shallots, tomatoes and peeled tomatoes – simmer for 20 minutes. Then add the herbs, season it with salz, pepper and possibly use sugar to taste it. Then pass the hot sauce through a sieve – set aside. For the gnocchi heat in a large saucepan salted water- Gnocchi should be so long in the water until they reach the surface. Swivel gnocchi in tomato sauce and garnish this loveley dish with the basil leaves.