Yaaaay, blondies are up on the blog. How could it be better at the moment, than with a sweet recipe? Because of the current Yakult campaign, this energy boost provided with milk bacteria was not used on my kitchen island, but in my bakery. What is the result? Fast and fruity blueberry blondies.
A portion of health and sin at the same time. You can also package them and use it for to go, if you want. Your slices are oven ready in only 25 min.
Wish you all a very happy baking and happy weekend,
yours Gaumenschmaus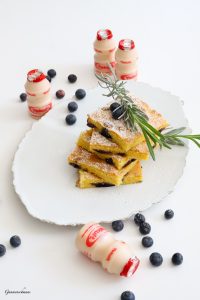 Prep time: 25 min + baking time
Ingredients for 25×25 cm:
2 eggs
50 g butter
100 g icing sugar
1 sachets vanilla sugar
120 g sieved spelt flour
200 g white chocolate (melted)
1/2 pck. baking powder
2 Yakult bottles
250 g blueberries
Preparation:
Use eggs, butter, vanilla and sugar and mix it well. Combine in a second bowl spelt flour with baking powder –  stir yakult, chocolate and flour into the butter mixture. Finally, wash the blueberries, carefully fold them in and pour the mixture onto a baking tray covered with baking paper + baking frame (25×25 cm) or into a baking mould. Bake the blondies in a preheated oven at 170 degrees hot air for about 20 minutes until golden brown.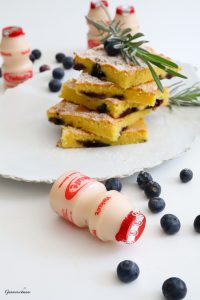 *contains advertising
---
In cooperation with Yakult!