Easy peasy and "watschneinfach" we austrians would say. Yes, here are these mini roulade pieces, which I created with coconut flour. Basically, ordinary wheat flour can be replaced up to 30% by coconut flour. I had to test this immediately. I think, you should pin this recipe on your to-do list for the next summerdays. Before serving, thaw the roulade slightly at room temperature. This makes the sponge cake softer and fluffier – the cream smoother. Of course, if you don't want to use coconut flour, choose pure wheat flour.
Happy Baking @gauumenschmaus,
yours Gaumenschmaus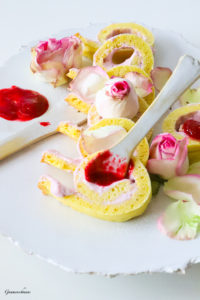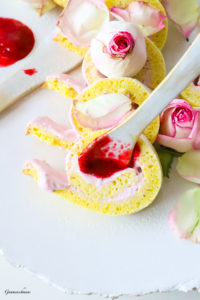 Preparation time: 40 min + cooling time
Ingredients:
5 yolks
5 egg white
pinch of salt
100 g sugar
25 g cornflour
30 g coconut flour
70 g wheat flour smooth
300 g curd cheese
100 g yoghurt
3 tbsp raspberry jam
4 sheets gelatine
2 sachets vanilla sugar
Preparation:
For the sponge cake beat the egg whites until stiff. Add a little salt while beating. Whisk the egg yolks with sugar until creamy in the second bowl. Mix flour and starch, sieve and pour over the yolk mixture. At least mix egg whites and egg yolks together well and spread on a baking tray with frame (approx. 38×25 cm) or baking tin. Bake in a preheated oven at 200 degrees hot air for approx. 8 minutes until golden brown.
Roll up the roll while it is still hot and let it cool down. For the cream, soak the gelatine. Stir the remaining ingredients in a bowl until smooth.
Heat the gelatine briefly, then stir quickly into the cream, leave to stand in the refrigerator for 10 minutes. Roll out the roulade, fill – roll up again and put in the fridge until serving. Sprinkle with icing sugar!
---