Baked with love. Baking also bread and not only cakes. But the sweet art is so exciting! So exciting! So demanding! There are so many ingenious techniques, variations and new creations. I don't want to miss that anymore. The start of the week should give us a lot of sun and warm temperatures – what goes well with it here? Bread, of course. Bread preferably in as many variations as possible. In today's article you can decide for yourself what you would like to choose a piece from. Three creations have emerged from my great basic bread recipe.
curry sea salt
tomato BBQ
herb pesto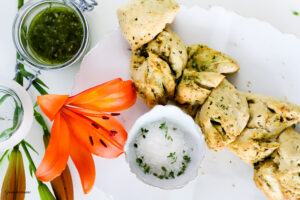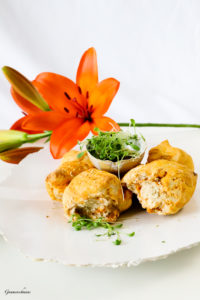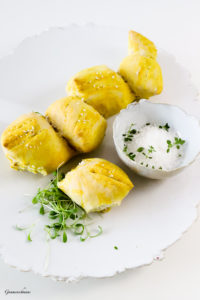 A taste of everything? As I mentioned above, my basic recipe allows all varieties. After kneading and resting – the dough is divided and refined with the appropriate ingredients.
Would you like to bake bread? Then try it this recipe – the preparation time of the bread dough is only 15 minutes!
HAPPY NEW WEEK,
Yours gaumenschmaus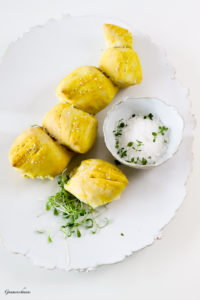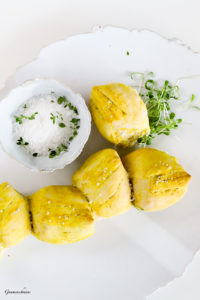 The curry bread is especially popular next to:
all kinds of Wok's
Pasta with creamy sauces
salad
Use for curry bread 2 tablespoons seasalt and curry as much as you want ;)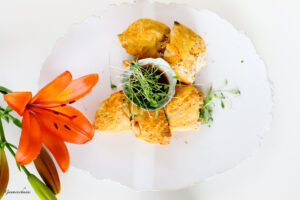 The tomato BBQ bread is a lovely partner for:
meat
fish
vegetables
grilling
For tomato BBQ mix in 2 tablespoons tomato paste and 2 tablespoons BBQ sauce.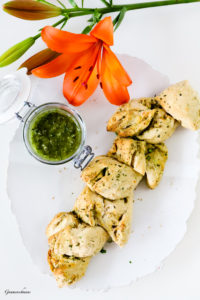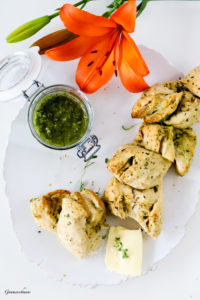 Herbal pesto bread is an all-rounder and loves:
For herb pesto, mix 1 handful of mixed herbs (chives, oregano, thyme…etc.), 5 tablespoons olive oil, 2 tablespoons grated parmesan and 3 tablespoons hazelnuts to creamy pesto. Mix in your bread dough as much as you like. You can keep the rest for pasta in the fridge ;)
Preparation time: 20 min
Ingredients:
300 ml lukewarme water
500 g wheat flour
½ Cubes fresh yeast
2 tbsp oil
1 teaspoon salt
Preparation:
Crumble the yeast in your water, then add the oil. Salt the flour and gradually add to the water mixture, knead well. Cover the dough and let it rest in a warm place for 60 minutes.
Knead the dough briefly on a floured work surface, divide into three parts and knead the corresponding ingredients into the three doughs. Take care with BBQ and pesto –  it will get a little muddy at the beginning – use some more flour to knead in. Form equal strands from each dough ball and place them on a baking tray lined with baking paper. Cut each strand with scissors every five centimetres and bake in a preheated oven at 220 degrees for 15-20 minutes.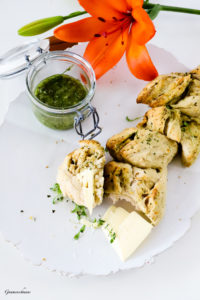 ---